Post by Coopsgirl on Sept 17, 2009 17:59:22 GMT -6
His next film in order of release after
The Last Outlaw
was the epic WWI film
Wings
. It was initially released on August 1, 1927 and ran in theaters for around two years into 1929. It also won the first Academy Award for Best Picture in 1929. The film starred Clara Bow, Buddy Rogers, and Richard Arlen. Jobyna Ralston, who would become Arlen's first wife, also had a supporting role as the girl both he and Rogers are in love with.
Clara was added to the plot to quite frankly put butts in the seats. The other cast members were not big enough stars yet to be a draw on their own and this was quite an expensive picture as is it runs over two hours and has several big battle scenes. The studio wanted to make sure they made their money back and adding Clara could do it. While she may have drawn some of them in initially, they kept going back because of the quality of the film which contained some very impressive aerial battle scenes. William "Wild Bill" Wellman the director, had actually been a pilot in one of the battles they recreated and by using real pilots with cameras attached to the planes, he was able to capture real flight as opposed the CGI tricks we get in most films today (and also back then with early projection screen technology). For the scenes where we see the actor's faces, the pilot just ducked down and it looked like Rogers and Arlen were flying the planes.
Most of the wonderful flight scenes were filmed over a six week period in San Antonio, Texas (my neck of the woods) and that's also where Gary's famous scene was shot. As Cadet White he is tentmates with Rogers and Arlen who he would become close friends with and they were known around Hollywood as the three musketeers. When Rogers and Arlen arrive at the flight training facility they find their tentmate napping on his cot. He awakes and they all introduce themselves. Gary's character has been there a while and is already a somewhat experienced pilot. He makes fun of Arlen for carrying a good luck charm (a small teddy bear) and Gary tells him that won't help if it your time to go. He then offers them a piece of his candy bar before he goes out to do "a flock of figure 8s before chow." As he delivers this line, the camera moves in to a close up and after a few seconds of a somewhat somber look, Gary flashes that million dollar smile and then exits. We can tell that the two newbies are a little enamored by his character who seems to be so grownup and self-assured. Next we see the shadow of Gary's plane over the ground and then we hear a crash as we cut back inside the tent. Arlen and Rogers rush out to see what happened and then an officer drives up and asks them to pack up his things and we know he is dead.
Gary is on screen for less than two minutes and he practically stole the film. This was hardly the first time audiences had seen him but this time something stood out and people wrote to the theaters and to Paramount to ask who the young man was who played Cadet White. They wanted to see more of him. The memory of WWI was still fresh as it had ended only 9 years earlier and it's very likely that many of the theater patrons had either been soldiers in the war or knew someone who had. I think Gary's character represented all those men who never came back and because of that, he struck a nerve and especially moved them.
They got his scene in one take and Gary asked if they could do it again because he picked his nose. For the record I want to say he didn't actually pick it, he just rubbed it with his finger which seemed to have been a habit of his as he does it many times in his movies and it doesn't look at all like he's picking his nose. Wellman told him that it was perfect and that if he kept it up, he could pick his nose all the way to the top.
Charles "Buddy" Rogers, Richard Arlen, and Gary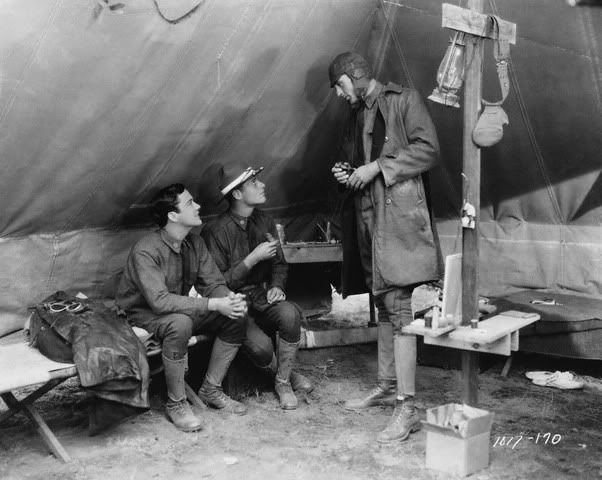 Here is Gary's scene from
Wings
.
www.youtube.com/watch?v=nR1qw9Yr_6I&feature=channel_page
Luckily for the people who wanted more Gary, they didn't have to wait very long as his next film
Nevada
(a Western), was released seven days later on August 8, 1927. Gary had the lead with Thelma Todd playing his love interest and William Powell as the villain. Thelma would continue her career into the talkies with a series of comedy shorts with Zasu Pitts and Patsy Kelly (they are very funny) as well as prominent roles with the Marx brothers. She died mysteriously in 1935 at only 30 years of age when she suffocated in her garage from carbon monoxide. No one believed she committed suicide and it was believed by many that it was a mob job as they were trying to use the restaurant she and her boyfriend operated to do their business in and she wanted them out. William Powell seems very out of place here as the bad guy as he would later find his place also in the talkies playing witty sophisticates in roles such as the
Thin Man
series and also many other wonderful collaborations with his most frequent leading lady, Myrna Loy. I'd say Powell and Don Knotts are my favorite actors after Gary and while each one's styles are very different, they are always wonderfully entertaining and a real joy to watch.
The plot of
Nevada
has Gary breaking his sidekick out of jail and then after fleeing that part of the country, finding work at Thelma's brothers ranch under the alias "Nevada". He and his pal decide to start clean there and Gary is quickly enamored with the lovely Thelma. However Powell has eyes for her too and as a wealthy, upstanding member of society, he has more of a chance with her than a mangy cowhand. Cattle are being rustled from the ranch and Thelma's brother asks Gary to keep an eye on her in case the rustlers ever try and do her any harm. Gary later discovers that it's Powell's gang who has been stealing the cattle and he brings him to justice thus winning the heart of the fair lady.
William Powell, Gary, and Thelma Todd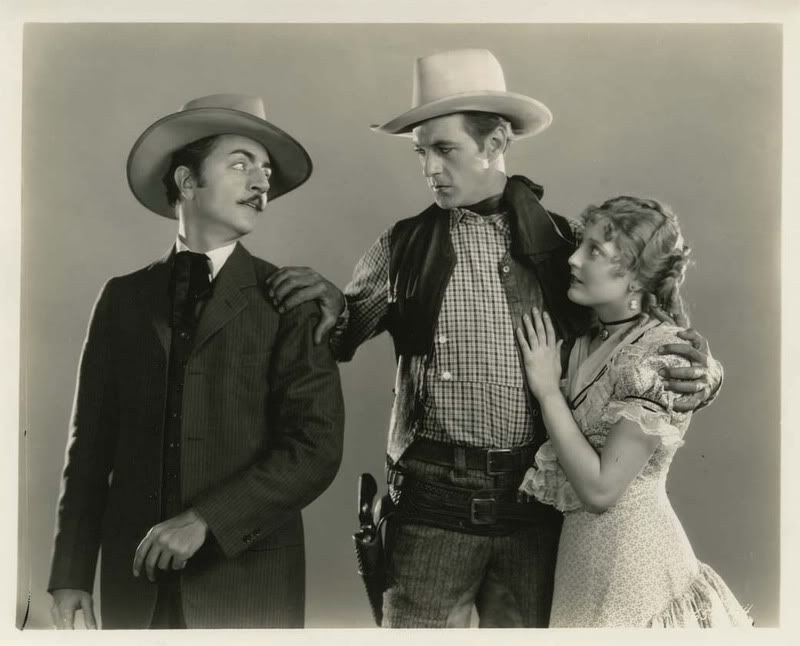 Now for the part where I go all crazy and imagine I'm watching these films with Gary and then discussing them with him. Read on at your own peril lest you become looney like me.

"I'm not surprised you're scene in
Wings
made such an impact. Besides Clara, you definitely stand out the most." "Thanks but it wasn't just because of me. Buddy and Dick really sold it. There I was leaving the tent. Then the theater was filled with the roar of the plane taking off, the sputter and the crash. And there were Buddy and Dick looking scared. First they looked at each other, then they looked at the chocolate bar I had tossed on my bunk, and then they looked at each other again, growing more haggard by the second. They were so great that the audience didn't see them at all. The audience saw only that tall lanky pilot, the one who got killed. What an actor I was! And I wasn't even there, it was a sound effect" he explains, laughing at the end. "Well, sound effect or whatever, you nearly stole the film. You know, Clara Bow is my favorite actress, what was she like?" "Clara was great. You couldn't be in a bad mood if she was around because she was so peppy and fun and being around her made you feel that way too. I owe her a lot for featuring me in some of her films when I was first getting started." "Just between us, what really went on between you two?" I ask leaning closer to him and speaking in a quiet voice. "I'm sure I don't know what you mean" he says innocently as he gives me a wink and a smile. I laugh knowing he's not going to answer so I steer the conversation to his film
Nevada.
"How'd you like working with Thelma Todd and William Powell?" "I really enjoyed it. They were both very professional and also very talented. It was such a shame what happened to Thelma, she was a real sweetheart and very funny. Bill was a character and I wasn't surprised when his career really took off a few years later." "I like them both too. I first saw Bill in this film and then a few months later I saw The Thin Man and couldn't believe it was the same guy. I'm glad he quit doing the villain roles because they really didn't suit him" I say. "He was great in those Thin Man films, they were fun to watch."
"What was it like doing the romantic scenes with Thelma in this one?" He playfully glares at me a minute before answering. "I knew you were gonna ask that. In Westerns you were permitted to kiss your horse, but never your girl. Just the same we did one farewell scene and one reunion scene that had me in a cold sweat. When good actors play together the emotional give-and-take builds up. But when she threw an emotion at me I couldn't field it. I just stood there like an iron deer. If this had been a talkie my movie career would have ended right there" he says seriously. "Oh, I don't believe that." "Clever direction was all that saved me. They shot those scenes from different angles and with some close-ups to make me look like I was doing a better job. Then the director told me to pretend I was a love-starved cowboy back from the Indian wars. I still remember exactly what he said. He told me 'You're hungry Cooper. You haven't eaten for two days. You're so hungry that you're pale and weak. Look into Thelma's eyes. What do you see? A big table full of food. Chicken. Fried chicken and gravy. Dumplings. Virginia ham. Smile a little man, that's a feast in front of you. Wet your lips a little. Look at that pie-a big apple pie. Show us how good it looks-don't overdo it. You don't have to eat it all. Now lean forward for a cup of coffee…whoops! Hold it! Cut!' That was me in a love scene – looking hungrily at a piece of pie" he says chuckling. "I'm sure you had all the women in the theaters looking at you the same way" I say gently elbowing him in the ribs. "I guess" he says as his cheeks blush a little. "I know it." "What's up next?" he asks changing the subject. "Beau Sabreur but I don't have that one so we'll skip to Doomsday." "Okay, you get it ready and I'll go get some more popcorn."
I took some of Gary's quotes from this article.
garycooperscrapbook.proboards.com/index.cgi?board=articles1950s&action=display&thread=61