Post by Coopsgirl on Aug 2, 2010 17:55:33 GMT -6
After
Lilac Time (1928),
Gary made three more silent films spanning the rest of 1928 and part of 1929.
The Shopworn Angel
released on Dec 29, 1928 costarred Nancy Caroll and is a romantic WWI drama. As was popular at the time, many studios were tacking on a talking sequence to their silent films in order to bill them as 'part talkies'. This film marks Gary's first foray into talkies as he says "I do" during his and Nancy's wedding near the end of the film. Nancy also sings a song titled "A Precious Little Thing Called Love". You can hear one version here. I like Annette Hanshaw's version the best but this one is good too.
www.archive.org/details/JohnnyMarvinEdSmalle-APreciousLittleThingCalledLove1929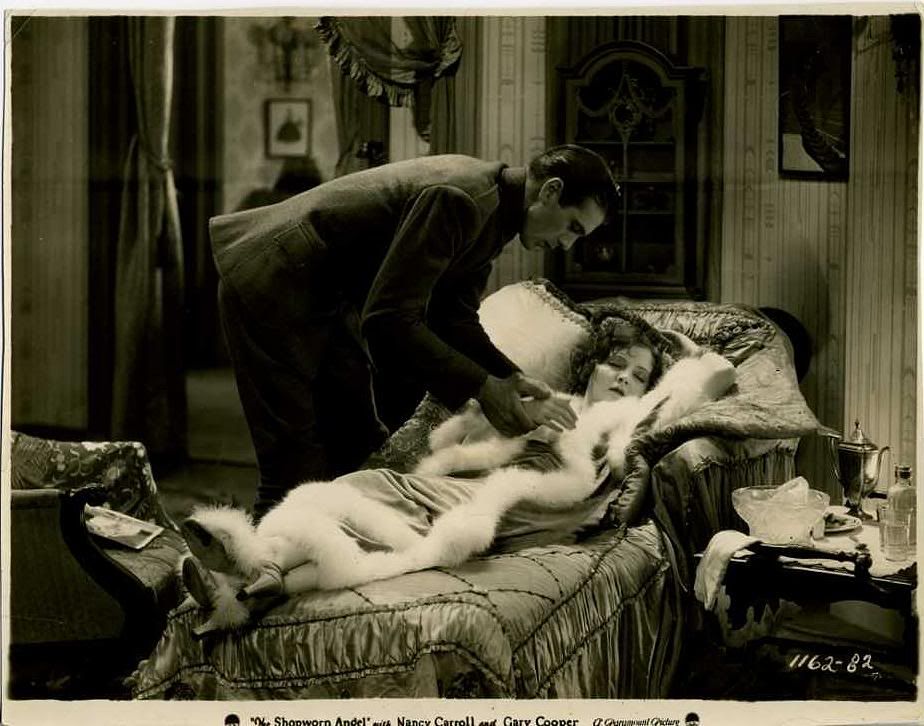 This movie was thought to be lost but there is a copy held in an American archive (sorry I don't know which one) and it was screened at the Cinefest film festival in the U.S. in 2009. However the disc that held the sound portions of the films has been lost so it only exists as a silent. Here's the AFI description of the film:
Wolf Song
was released on Mar 30, 1929 and costarred Lupe Velez. Gary played a kind of a wild man who lived in the mountains and worked as a fur trapper. On a trip into town he meets Lupe and they fall for each other. Life imitated art here as Gary and Lupe began a tempestuous three year love affair. Judging by how many mentions there are of them in the gossip sections of old movie magazines and how many full articles were written about them as well, they were one of the hottest couples of their day. They were both young and attractive but their personalities were complete opposites. Gary was mellow and laid back and Lupe was very outgoing and a little wild. Officially Gary was still living with his parents during their time together but more often than not he could be found at Lupe's house on Laurel Canyon. It seems strange now but back then there was some controversy regarding their relationship as they were an interracial couple. I've read stories that both Paramount and Gary's mother talked him into breaking up with her, and while they may have had some influence on his decision, I think most of it was his choice. He spoke very highly of her after their breakup (around 1931) and when both he and Lupe were married in 1933 (Lupe to Tarzan actor and Olympic athlete Johnny Weismuller) the four of them were sometimes seen out on the town together celebrating their new happiness.
Unfortunately for Lupe, those happy days wouldn't last. She and Johnny would divorce in 1939 and in 1944 at 36 years of age she committed suicide by overdosing on Seconal. She had no children but was pregnant at the time of her death by actor Harald Maresch who refused to marry her. She was a fine actress who lit up the screen with her beauty and exhuberance and it's a shame that her life went down such a tragic road. My favorite of her films are the
Mexican Spitfire
series and while her character may be a racial stereotype (fiery Mexican), she improves the material with her great comedic timing and fun loving nature.
Wolf Song
also survives and was screened in New York in 2010. I found a blog post where someone who saw the film describes it better than I can since I haven't seen it. Be warned though, you may have hot flashes while reading this review so have a fan and cold beverage handy
.
girlfriday1035.blogspot.com/2010/03/wolf-song-1929-silent-film-rare.html
Betrayal
released on May 11, 1929 was Gary's last silent film and also the last silent film made by Paramount studios. It costarred Esther Ralston (who appeared with Gary in two other silents before this with
Children of Divorce
and
Half a Bride
) and Emil Jannings who won the first Best Actor Oscar in 1929. As far as I know this is a lost film which is unfortunate as the plot sounds very interesting. Here's the AFI's description:
In these three films audiences got to see Gary play wildly different characters and judging by the reviews of the day, he excelled at each one. In
The Shopworn Angel
he played the type of man he would be best known as; a sweet, romantic all-American good guy who sees the best in the people around him. In
Wolf Song
he played a reckless, wild young man practically bursting at the seams with sexual energy who had his way with any lady he wanted until he found real love and finally settled down. In
Betrayal
, as in
Wolf Song
, he played a young man who wasn't shy with the women but instead of being a bit brutish, he is an artist who charms his way into the ladies hearts and beds before meeting a tragic end.
Silent films too were to meet a tragic end as their production waned by the end of the decade. Hollywood had reached its zenith during those last few years of the roaring 20s with spectacular production values and world famous movie stars. But with sound pictures now taking over the industry, movie makers would have to learn their craft all over again.