Post by Coopsgirl on Aug 25, 2009 16:12:05 GMT -6
I'm going by the release dates from the AFI Catalog 1921-1930 edition for these early films of Gary's.
Gary received some critical praise for his role as Abe Lee in
The Winning of Barbara Worth
released late in 1926, but he was still very much an unknown commodity. Sam Goldwyn intended to sign him to a contract but as fate would have it, he kind of slipped through the cracks. One person thought another person was going to sign him and so it went until no one had done it. Gary, believing they weren't interested, met with the executives at Paramount instead. He was called into a large board room where the execs were seated at a big table. He stood nervously as they looked him over and then they asked him to wait outside. A few minutes later they emerged with a contract offer; no screen test needed.
From the release dates it looks like
It
was the first Paramount picture released that Gary appeared in on February 2, 1927. Quite an auspicious start at his new studio since
It
would go on to be a smash hit and make its star, Clara Bow, the most popular girl in the nation. Clara had been working in pictures since 1922 at the tender age of 17 and was steadily becoming one of the screen's most popular and well liked actresses. 1927 was her breakout year and she took Gary along for the ride.
There are a few different versions of how they met, but at some point Clara saw him and wanted him to be in one of her pictures so he was given a bit part as a reporter in
It
.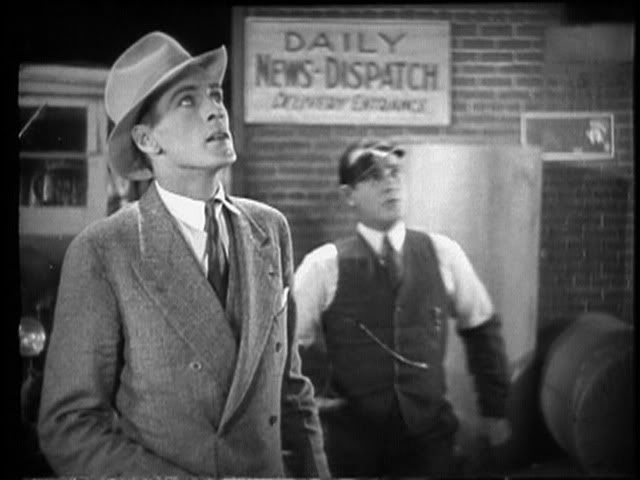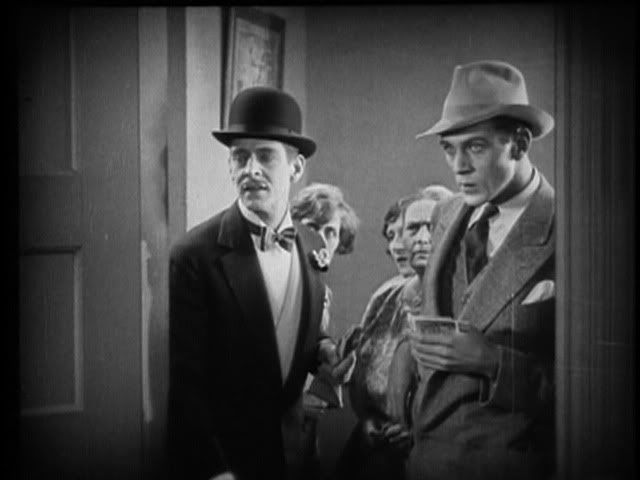 Gary's scene begins at about the 7:30 minute mark and continues on the second clip.
www.youtube.com/watch?v=d0cTIGWN-8Y&feature=related
www.youtube.com/watch?v=EvFQZFhzp7g&feature=related
Clara knew a good thing when she saw and it and would also help Jean Harlow and Jack Oakie during the early days of their careers in the later years of the decade. She had more than a professional interest in Gary however and as a beautiful young woman of 21 and part of the flapper set, she easily reeled him in. Their relationship was part publicity stunt and part real romance. Clara was his first Hollywood girlfriend and I can only imagine how much of a boost it was to his confidence to be dating and bedding a star of her magnitude when he was still no more than a bit part player.
His next two films released were
Children of Divorce
on April 2, 1927 and
Arizona Bound
on April 9, 1927. I believe however that
Arizona Bound
began filming first so we'll start with that one. A Western, this genre was comfortable for Gary and he felt right in his element. Unfortunately this is a lost film so there's not much I can add about it. Here's the description from the AFI catalog:
Gary riding Flash the Wonder Horse in Arizona Bound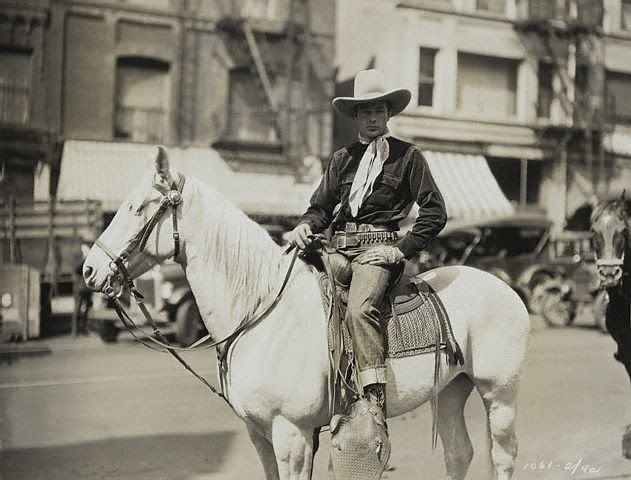 His next film however would not go so smoothly. Still dating Clara, she wanted him to costar in her next picture,
Children of Divorce
, also starring the very lovely Esther Ralston who had been in show biz with her family for years and was also a star in the silent and early talkie era. In
CofD
, Clara plays Kitty Flanders and Esther plays her childhood friend, Jean Waddington. Gary as Ted Larabee is in love with Jean. However they are all children of divorce as the title explains and they are hesitant to get married not wanting to repeat the mistakes of their parents. This is a love triangle melodrama, and Kitty somehow tricks Ted into marrying her one night after a drinking spree and they end up having a child together. Ted, still in love with Jean, won't divorce Kitty since he does not want to go down that same path, especially since a child is now involved. Kitty, realizing her mistake, commits suicide so Ted can be with the woman he truly loves.
Gary's character is a rich playboy type and this was completely alien to him. It was probably the first time he'd ever worn dinner clothes (fancy suit, white tie, etc...) and by all accounts, including his own, he was terrible. One scene called for him to walk through a room where a party was going on. He was supposed to breezily stroll through the crowd flirting with the girls and sipping champagne from their glasses. He was more nervous than a long tailed cat in a room full of rockers. They did upwards of 30 takes as he continued to stumble and spill his champagne on the party goers. He was fired but the man they replaced him with was worse so he was summoned back, but only after they had spent a good amount of time searching for him. He had just taken off for awhile to be alone thinking his new found career was over.
Even with the star power of Clara and Esther, this movie went over like a lead balloon. It was a dark and depressing drama; not at all like Clara's usual films and audiences wanted more of the It girl they had seen earlier in the year and not a suicidal wife/mother. I haven't seen this one but it was screened about a year ago in Chicago to a packed house. I don't think it's as bad as some have made it out to be and considering it stars my top two faves (Gary and Clara) and I'm also a big Esther Ralston fan, this is the film I want to see most in the world. The Library of Congress holds the restored print and Paramount still has control over it. I hope we'll see it one of these days. It's an important film in Gary's career and a rare dramatic turn for Clara.
Clara Bow, Esther Ralston, and Gary
About a minute in there is a short clip of Gary and Clara from Children of Divorce.
www.youtube.com/watch?v=5m_VV1zfAqk&feature=related
1927 was a busy year for Gary. He would go from being an unknown actor to a full-fledged leading man and an important part of the young set in Hollywood.
In this article Gary talks very candidly and quite humorously about those early days. I'm a stickler for accuracy so I have to point out that it was Betty Jewell and not Thelma Todd who appeared with him in
Arizona Bound
which is kind of how the article reads; sorry Gary. Miss Todd however was his leading lady in
Nevada
which we will get to shortly. He also downplays the relationship between him and Clara. While he did a whole lot of kissing he was never one to tell too much but make no mistake, they were a real couple. The affair was brief however as Clara was also still dating director Victor Fleming who she had met a year earlier while filming
Mantrap
. He would also go on to direct Gary in his first talkie,
The Virginian
, and two of the most beloved films of all time:
Gone With the Wind
and
The Wizard of Oz
. Gary didn't like that but Clara was young and a little wild and not ready to be a one man woman quite yet so their romance fizzled. While Clara may have been the first, she would most certainly not be the last in a long line of Hollywood's elite actresses to share more than a professional relationship with our Gary.
garycooperscrapbook.proboards.com/index.cgi?board=articles1950s&action=display&thread=61